Affordable Mother's Day gift ideas any mom will absolutely love!
I love giving gifts. It gives me great joy. I love seeking out the perfect gift to make someone's day. Mother's Day is no exception. In fact, it's more important. There are few holidays where the entire purpose of the gift is to show appreciation. This isn't like a birthday where we're saying "Congratulations on making it to another year."
Over the past few years, I've been the lucky recipient of some amazing gifts that I think are awesome Mother's Day gift ideas. Some are sentimental and tug at the heart strings and others are more practical. I've also added to the list a few things that I've yet to receive but would love to have and would be great Mother's Day gift ideas for any mom.
This post contains affiliate links. Making a purchase through one of these links will provide me with a small commission at no additional cost to you. Your support helps me run this blog and I thank you!
All of these gifts are great for family-focused mamas. Those whose heart is in their home and whose daily joy and activity revolves around their family. Additionally, they're all affordable, everyday gifts; nothing over the top or expensive.
In addition to being great ideas for YOUR mom, consider using this list as a "hint" to your kids or spouse for your own Mother's Day gifts! I know some of these I never would have thought of as a great gift for me until I received it. Now I can't imagine not having them!
Sentimental Gifts for Mom
It's no secret that I have a sentimental side. Actually, scratch that. It's less of a side and more of about 90% of me. I love my family, adore them, and anything having to do with them. I might be able to only wear one necklace at a time, but I assure you, I would be completely content receiving a different mom necklace each Mother's Day for the next 60 years.
This list is perfect for moms like me. Mom's who will wear macaroni necklaces proudly, display a collection of dead weeds in a vase like roses, and who consider the title "mom" to be their number one job. And love it.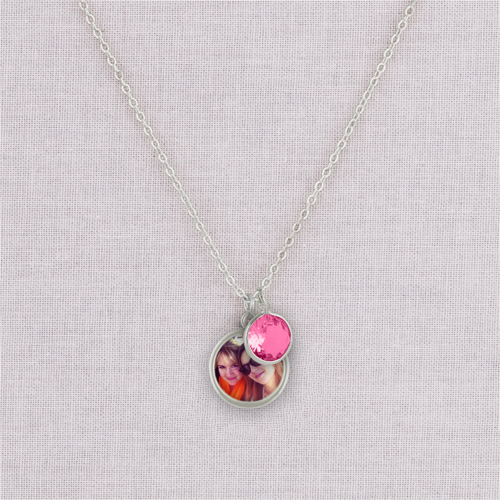 This one I actually bought myself, but Andy is the one who found it and told me to get it. I absolutely LOVE it. I bought it about a month after Zachary was born and I've worn it almost daily since then. It's still in great shape. You can always add on more charms for additional children as well. Get it here.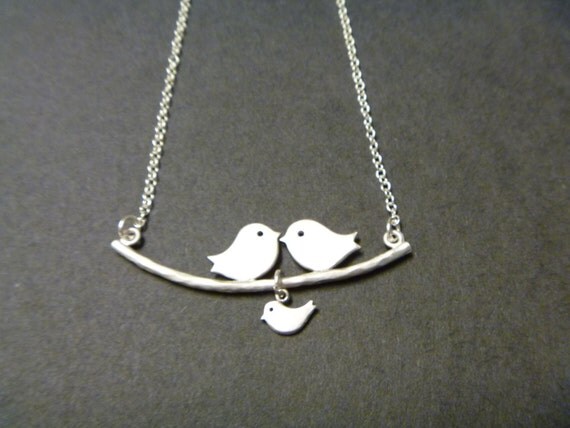 Andy bought this for me for my first unofficial Mother's Day. Zachary was born 2 weeks after Mother's Day so Andy got this to give to me before he was born. It is so beautiful and delicate. There are various options for the birds and additional baby birds can be purchased if there is more than one child. Get it here.
3. M-O-M picture
I did this one for Andy on Zachary's first Christmas. It was super easy and fun to do. All you need is a three photo collage frame and the letters M and O. I bought the D and A from a local hobby store for a couple of bucks and painted them blue.
4. Mom picture frame with photo
We all have favorite pictures of our little one. There are TONS of Mom/Mama/Mother frames out there. Some have a poem, some have spots for two photos. Yes, please. To all of them! This is an especially sentimental gift if the child is older and the photo chosen is from when they were so tiny. I absolutely love this one!
5. Anything handmade
I don't care how old the child is. If he's two, he can make handprint flower art. If he's 20, he can build a beautiful birdhouse and paint it Mom's favorite color. Nothing is ever treasured as much as a gift that our loved ones made!
Practical/Useful gifts for mom's life
Sentimental as I am, I definitely appreciate a gift that makes my life easier. If it makes it easier to keep healthy habits in the home or saves me money, that's a huge deal. This list is perfect for mom's who are a little less sentimental. Those who prefer their gifts to be useful and serve a purpose.
These gifts will save you time, money, keep your family healthy, or help you with self-care. Perfect for mamas that appreciate a bargain, value healthy living and healthy finances, and need some encouragement to take time out for themselves sometimes!
This bread maker is so simple to use and takes virtually no effort. Toss in all of the ingredients, set the machine to the size you want and you're done. Having this bread machine has made it so much easier to give my family healthy food. Bread in the store is filled with sugar and all kinds of nasty and unnecessary ingredients. Now, I can make a loaf of bread with 5 or 6 ingredients, with minimal effort and time, and it tastes great. This is a GREAT gift for a health-conscious mom.
I had this smoothie blender for a long time but then I broke it. So, now I have a cheap little one. I absolutely love having a single serving blender to throw together quick smoothies in the morning. What makes a single serving blender a great Mother's Day gift is the convenience factor. It is so much more convenient to make everyone different smoothies with these than with a conventional blender. With this, there is no washing in between batches or making compromises on what everyone wants. Each person can have their own smoothie in their own blender cup.
A french press is a great cost and calorie saver. I brew up a batch and have it ready to make iced coffees for a few days. In addition to the press, get one of the flavor syrups and mom can make her own delicious, and healthier treats before she goes to work. It'll cost far less than Starbucks.
4. Hobby Supplies
Moms are notorious for spending all of the money and effort on their kids and little on themselves. A great Mother's Day gift idea is to replenish her hobby supplies. Is mom a painter? Get her some new paints, canvases, or brushes. Is she an avid reader? Buy her a few new books, a gift card to her favorite bookstore, or a subscription to her favorite magazine. Does she garden for fun? Load her up with new gloves, seeds, garden stones…whatever you think she would like or need.
5. Gift Cards specifically for her
Gift cards aren't usually very thoughtful, but they can be. Getting mom a gift card that she MUST use on herself for something you know she wants or will enjoy is very thoughtful. If she's been saying her back hurts or she wants a massage, get her a gift certificate for one at a local spa. If she used to get her nails done all the time but now doesn't want to spend the money on it, get her a gift card for it. Get her a gift card to her favorite store, cafe, web store…as long as she can't use it on someone else when she spends it!
Show Mom the love with one of these awesome gifts
Gift giving doesn't have to be expensive. It doesn't have to be elaborate. It only needs to come from the heart and have meaning or use for the recipient. True, moms tend to like most things from their kids, but these gifts are sure to be truly appreciated.
Whether it's a gift for us, or a gift to our own moms, at least one item on this list is sure to please the mom you're buying for this year. So send this list to your kids and husband, and then choose something for your own mom from the list above and have an awesome Mother's Day!
-To your Better Life-
Kira